Connecting the Pieces
CONNECTING THE PIECES – 2.75" GUIDED ROCKET LAUNCHER INTEGRATIONS FOR GROUND LAUNCH APPLICATIONS
Launch Success with MSI Defense's Vehicle Integration Kit (VIK)
Mooresville, NC, 2021 Feb 2 — Utilizing MSI Defense Solution's Vehicle Integration Kit (VIK) to mount the FLETCHER 2.75" launcher and AP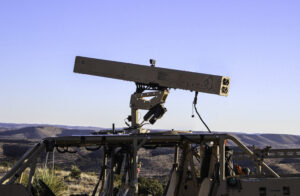 KWS® laser-guided rockets, the system demonstrated exceptional performance. The VIK successfully completed its first ground-based, APKWS guided rocket launch with impressive results.
As an integrator with Arnold Defense's recently announced FLETCHER launchers and BAE Systems' APKWS laser-guided rockets, MSI has delivered rapid vehicle mounting options for the Fletcher, fitting a variety of vehicle types and configurations.
Designed for transportability, efficiency, and ease of use, MSI's VIK enables customer mission success. Following effective trials, the FLETCHER system has now been delivered, helping achieve defense superiority and safe standoff for armed forces. Leveraging features such as small form factor, vibration isolation, a customizable stowage solution, G-meter (with optional logging capability) aided by MSI's aggressive delivery, customers now have immediate effectiveness in place. Precision strike capability has been delivered in near-record time to meet constantly emerging threats.
MSI Defense Solutions President, David Holden, is excited about the VIK success, "We have shown that the flexibility of the VIK enables customers to install on nearly any make and model of turret fitment, providing world-renowned ground-based lethality and standoff capability. MSI has also shown that we can deliver it in a very compressed timeline. Our Fitments are available for remote weapons stations (RWS) like the Terrahawk, as well, so we are able to give our customers a unique breadth of choice for guided rocket launching."
With the growing need for ground-based weapons system configurations, MSI is developing integration kits for a variety of platforms to meet the needs of its Customers, providing rapid-capabilities to perform critical missions with success.